Books with Photography by West Freeman

The Garden District of New Orleans,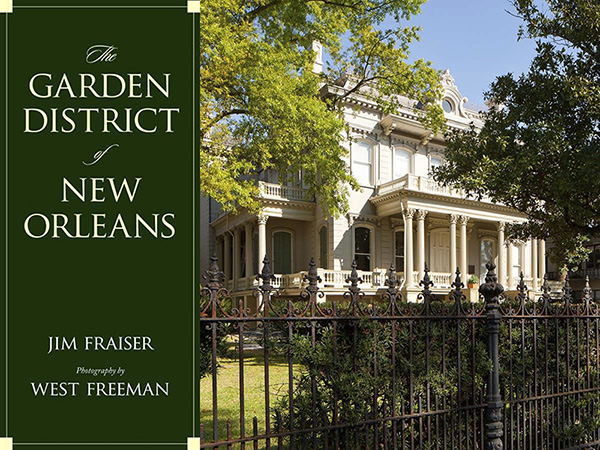 The Garden District of New Orleans,
Text by Jim Fraiser
Photographs by West Freeman
Published by University Press of Mississippi, ©2012
288 pages (approx.), 12 x 9 inches, 160 color photographs, glossary, bibliography, index
ISBN - 978-1-934110-68-3

A remarkable architectural and historical tour of the big easy's cardinal suburb
The Garden District of New Orleans has enthralled residents and visitors alike since it arose in the 1830s with its stately, white-columned Greek Revival mansions and double-galleried Italianate houses decorated with lacy cast iron. Photographer West Freeman evokes the romance of this elegant neighborhood with lovely images of private homes, dazzling gardens, and public structures. Author Jim Fraiser vividly details the historical significance and architectural styles of more than a hundred structures and chronicles both the political and cultural evolution of the neighborhood.
The Garden District, unlike the French Quarter, evolved under the auspices of predominantly Anglo-American architects hired by newly arriving, and newly wealthy, Americans. Beyond these wealthy homeowners, the Garden District also offers a startlingly diverse and freewheeling history teeming with African American slaves, free men and women of color, French, Italians, Germans, Jews, and Irish, all of whom helped fashion it into one of America's first suburbs and most extraordinary neighborhoods. Fraiser animates the Garden District's story with such notables as Mark Twain; Jefferson Davis; occupying Union general Benjamin Butler; flamboyant steamboat captain Thomas Leathers; crusading Reverend Theodore Clapp; Confederate generals Jubal Early and Leonidas Polk; jazzmen Joe "King" Oliver and Nate "Kid" Ory; champion pugilist John L. Sullivan; local authors Grace King, George Washington Cable, and Anne Rice; Mayor Joseph Shakespeare; architects Henry Howard, Lewis Reynolds, and Thomas Sully; cotton magnate Henry S. Buckner; and Louisiana Lottery cofounder John A. Morris.
In words and photographs, Fraiser and Freeman explore the unexpected evolution of this district and reveal how war, plagues, politics, religion, cultural conflict, and architectural innovation shaped the incomparable Garden District.
Jim Fraiser, Madison, Mississippi, and West Freeman, New Orleans, Louisiana, are the authors of The French Quarter of New Orleans (University Press of Mississippi).
The French Quarter of New Orleans,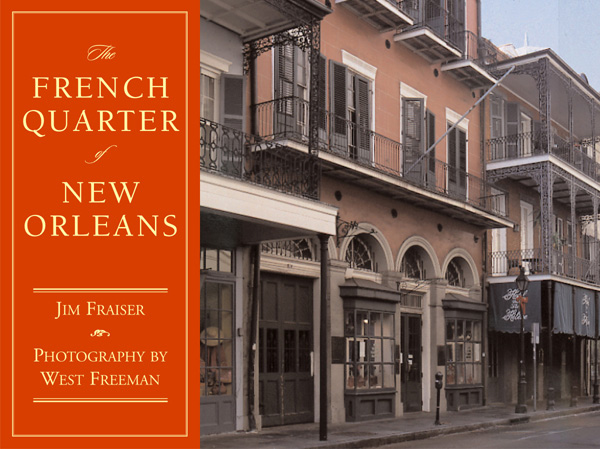 The French Quarter of New Orleans,
by Jim Fraiser
Photography by West Freeman
Published by University Press of Mississippi, ©2003
248 pp., 160 full-color photographs, glossary, bibliography, index
ISBN - 1578065240 (978-1578065240)
From Publishers Weekly
New Orleans's most famous district has been shaped by war, fires, floods, politics, cultural conflict and architectural innovation. This slick, educational volume shows those influences, via Fraiser's learned text and Freeman's vivid photographs. Eschewing stereotypical images of drunken revelers and shiny beaded necklaces for straightforward photographs of townhouse entranceways and wrought-iron balconies, this work concentrates on the Quarter's buildings. The chapter on La Nouvelle-Orléans offers a portrait of a 1772 blacksmith shop with an abat-vent (roof overhang), while the section on La Nueva Orleans explains how Spanish and French cultures impacted the neighborhood's architecture. The authors include well-known locales, as well, including Preservation Hall and the Court of the Two Sisters. Fraiser (Mississippi River Country Tales) and Freeman, a New Orleans native whose work is part of the New Orleans Museum of Art's permanent collection, have assembled an intelligent, enlightening look at one of America's most charming areas.
Copyright 2003 Reed Business Information, Inc.
University Press of Mississippi
There is no place in America like New Orleans's famed French Quarter. With Photographs and history, The French Quarter of New Orleans explores the unique evolution of the district. The author and photographer team to reveal how war, fire, floods, politics, cultural conflict, and architectural innovation shaped the Quarter.
In West Freeman's 160 color photographs the present-day romance of the Vieux Carré is here to savor. But The French Quarter of New Orleans moves beyond the Old World façades and into the heart and history of the many peoples-spanish, French, Creole, Native American, African American, and Italians-who have lived here. ...
For those who have visited the Quarter, this book will be a treasured memento of the district's unparalleled romance and flavor.
The Majesty of the Mississippi Delta,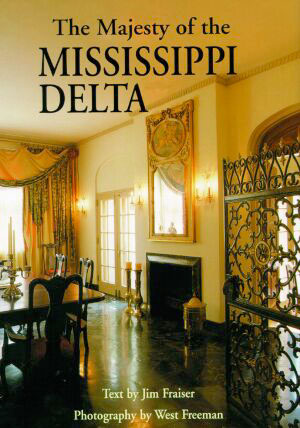 THE MAJESTY OF THE MISSISSIPPI DELTA
By Jim Fraiser
Photographed by West Freeman
Published by Pelican Publishing Co., ©2002
96 pp. 6 x 9 109 color photos Map
ISBN: 1-56554-869-8
EAN: 978-1-56554-869-5 hc

The Mississippi Delta is perhaps best known for its rich blues history. Like many other regions of the South, there are tremendous numbers of beautiful buildings of historical importance in this land deposited by one of the country's most historically important rivers.
From historic Port Gibson to up the river toward Memphis, Jim Fraiser's evocative text details the architectural features of homes, churches, and stores dating back as far as the early nineteenth century. Every column, balcony, and pilaster has a story to tell. Some are new stories: what was once the Delta Grocery and Cotton Company is now The Ground Zero Blues Club, owned in part by actor Morgan Freeman. Stories of the days when cotton was king abound as well, like the story of the Willis Cowan house, built by the daughter of Vicksburg's founder in 1832. Whatever your taste in tales, the photographs capture the seldom-seen interiors and abundant details of these grand homes and simple structures remarkable for their tenacious grip on the land.
About the Author
Jim Fraiser lives and practices law in Jackson, Mississippi. Active in local theatre, both as a playwright and actor, Fraiser has appeared in feature films including Ode to Billy Joe and Mississippi Burning. He is the author of Mississippi River Country Tales: A Celebration of 500 Years of Deep South History ($14.95 pb). He is a recipient of the William S. Richardson Memorial Award for Poetry and writes for a number of local newspapers and magazines.
About the Photographer
West Freeman is a native New Orleanian. His photographs have been featured in Architectural Digest, New Orleans Magazine and are a part of the permanent collection at the New Orleans Museum of Art.